COVID-19 Safety
COVID-19 Safety with park mazda
To our valued customers and community,
As you know, our province has gone through many fluctuations in active COVID-19 cases and accompanying restrictions. We trust that everyone is doing their part to remain safe and healthy.  As a local, family owned and operated business, it is of utmost importance to us to keep our staff and anyone visiting our store as safe as possible during the COVID-19 pandemic.   We'd like to let you know about some of the changes we've made to our store in order to accommodate you.
Service and Parts departments
Our shuttle is once again in full operation, and we are able to accommodate you with this complementary transportation service when dropping off your vehicle. Our waiting area has been re-opened, but we are currently only allowing room for two people in order to continue adhering to physical distancing measures. Having said that, we are still recommending drop-offs at this time. We have a drop box where you can fill out the service required and we can take it from there. We have plexiglass installed at our counters with barricades for physical distancing, but you can also still call us from the parking lot and we will come out and discuss any question in person from a distance if you choose.
All vehicles are handled with gloves, seat covers and sanitized before and after for all touch-points of the vehicle.
We've implemented a rigorous cleaning regiment that will continue throughout each day. This includes the disinfecting of high traffic areas and items including customer lounge areas, showroom vehicles, restrooms, counters, desks, phones, etc. In addition, with each entry point to sales and service, we have stations set up containing hand sanitizer as well as gloves and pens for your use. We're also keeping our staff updated with with information about COVID-19 and have implemented procedures for sanitization, physical distancing, detection of symptoms, and self-quarantining procedures.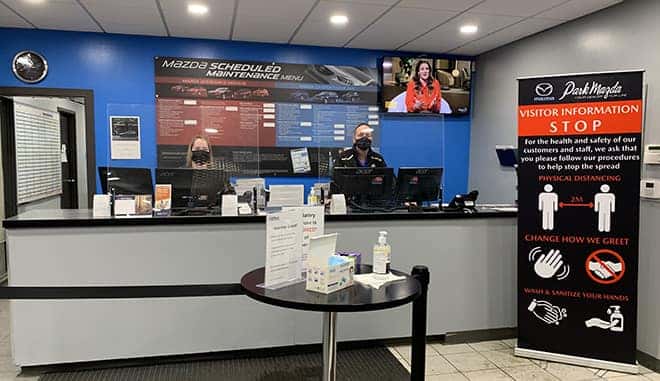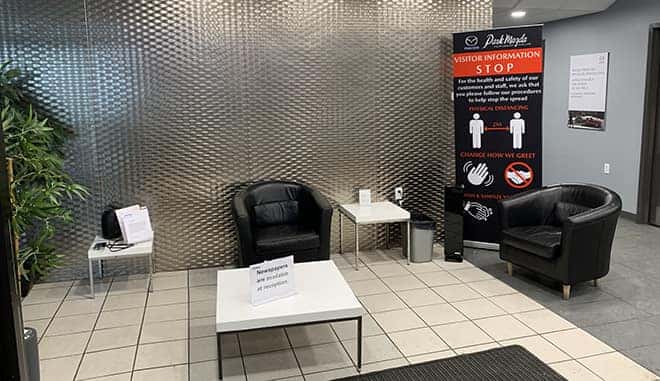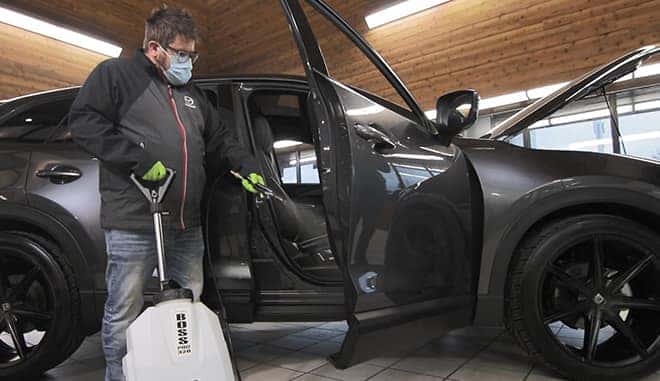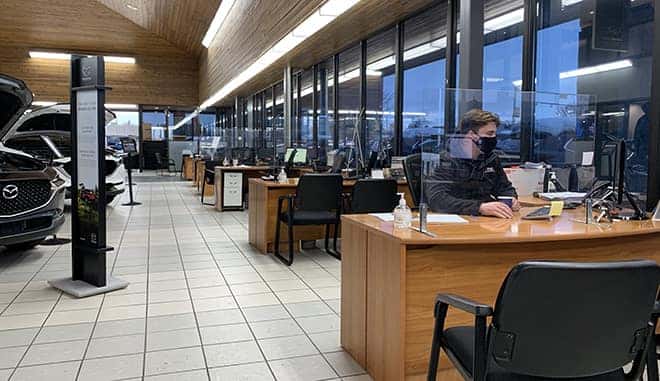 As you can see, we've beefed up our efforts to keep you safe while visiting our store. This also includes sanitary stands at each entrance to provide you with complimentary gloves, masks, and sanitizer. We have plexiglass at our reception area and at each of the desks in our sales and finance departments to aid with physical distancing measures in order to keep everyone as safe as possible. In addition, we are continuing to offer remote test drives. We'll bring the vehicle to you at your convenience and will be sanitized in all touch-points to ensure your safety. We are also providing a fresh, unused pen for when you're ready to sign on that dotted line.
Walk-in appointments are always welcome!  However, we still recommend to book by appointment to ensure availability of our sales staff. Aside from weekdays, we're also open on Saturdays from 8am-6pm and on Sundays from 11am-5pm. We can accommodate your availability, so let us know what works for you and your schedule.
We still also encourage as much online and phone inquiries for you to stay as comfortable as possible. Let's continue to do as much as we can by phone and email before you're ready to come in to the store.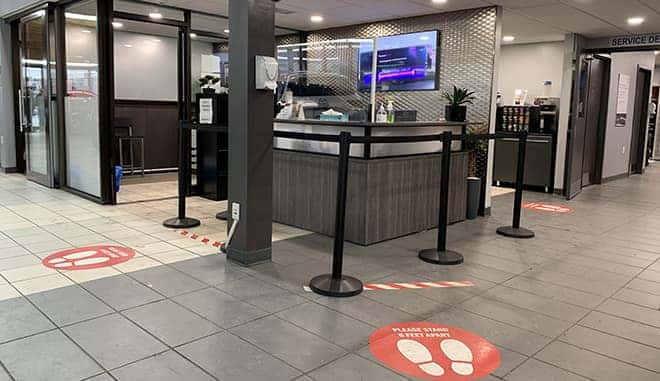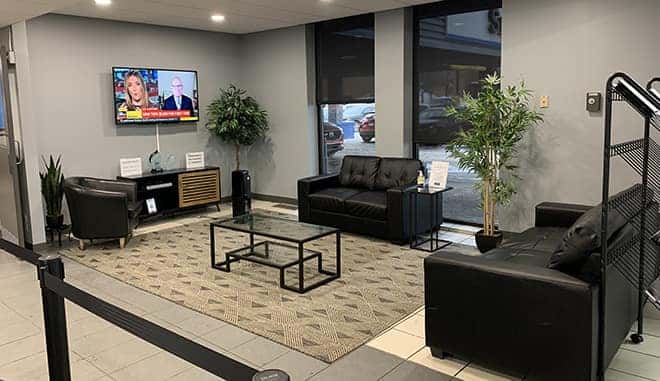 We're here to help wherever possible
If you've been alright through the pandemic thus far but you've recently run into trouble financially, many banks are still offering payment deferrals. Take advantage and keep your money in your pocket during these uncertain times! If you need assistance, call us and we can help you through this.  Park Mazda is able to offer payment deferrals, as well as cash back and re-financing options that can help you lower your interest/payments and stay as flexible as possible. You can apply for our Financial Support Options by CLICKING HERE.
We are available at 780-464-0668, and you can also text message us at 587-210-8409. As always, you can chat with our team by going to parkmazda.ca and using our virtual chat service. We won't connect you with a robot or someone in another country, you'll be speaking with our staff who are available and ready to serve your needs.
Thank you for being a valued Park Mazda customer. Stay safe, stay home whenever possible, continue to follow federal and provincial guidelines during the reopening phases, and we hope to be able to see you in person soon.